All Alereon Ultra Wideband (UWB) chipsets consist of two chips: a combination MAC/Baseband (MAC/BBP) and an RF transceiver. Each two-chip solution integrates the RF transceiver, MAC, baseband, and embedded software to implement a complete WiMedia UWB solution that supports multiple protocol adaptations layers including Certified Wireless USB and networking protocols, and all physical topologies including point-to-point, star-hub, and mesh. The chipsets cover all worldwide UWB spectrum and channels.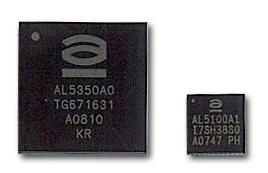 AL5100 RF Transceiver
Alereon's AL5100 RF transceiver integrates sensitive analog front-end components including synthesizer VCO/PLL, anti-alias filters, LNAs, PAs, and transmit/receive switches, and supports a single-ended connection to the antenna that eliminates external baluns. The AL5100 supports all worldwide WiMedia spectrum and channels. It provides industry-leading performance in the presence of interference and poor signal quality due to its low transmitter EVM, low receiver noise figure, high linearity, and wide dynamic range. When combined with an Alereon MAC/BBP, the AL5100 supports all WiMedia functionality.
| Feature | Description |
| --- | --- |
| Band Groups | 1-6 (3.1-10.6 GHz) |
| Channels | TFC 1-10 (FFI, TFI, TFI2) |
| Package | 5×5 mm, 40-pin QFN |
Contact Alereon for the AL5100 product brief.
---
AL5350B MAC/BBP
Alereon's AL5350B MAC/BBP integrates all digital and mixed signal circuitry for a WiMedia UWB system that provides high-speed wireless connectivity using Certified Wireless USB and networking protocols. The AL5350B uses a low-power RISC processor combined with high-precision hardware timers and specialized hardware for accelerating encryption, filtering packets, and performing DMA. The chip supports multiple high-speed and low-speed interfaces and multiple GPIO pins. The integration of all necessary program and packet RAM allows the AL5350B to maintain a small footprint. The AL5350B's software-heavy implementation gives it the flexibility to implement all industry and proprietary standards.
| Feature | Description |
| --- | --- |
| Band Groups | 1, 3, 4, and 6 (3.1-9.5 GHz) |
| Channels | TFC 1-10 (FFI, TFI, TFI2) |
| Data Rates | 53.3, 80, 106.7, 160, 200, 320, 400, and 480 Mbps |
| High-Speed Interfaces | USB ULPI (Host and Device), 16-bit parallel, Octal SPI |
| Low-Speed Interfaces | UART (for debug), SPI (for flash), GPIO, I2C Slave |
| Security | AES-128, AES-256, SHA-384 |
| Topologies | Point-to-Point, Star-Hub, Mesh Network |
| Package | 6×6 mm, 132-pin BGA |
Contact Alereon for the AL5350B product brief.
Alereon provides pre-built modules for embedment into ISW (ITAR) and Commercial (Non-ITAR) applications. Modules include variants for attaching to USB, 16-bit parallel, Octal SPI, and serial (UART/RS232) interfaces. ITAR modules are NIST certified.
---
Contact Alereon for the updated descripton of available modules
Alereon provides a software development kit (SDK) to support rapid software development. The SDK includes an ISW API reference, a hardware abstraction layer (HAL) reference, and an up-to-date SolNet library. The SDK is available in a Linux distribution. However, because it is writtin in ANSI C and in an OS-independent manner, the SDK is portable to embedded targets and other operating systems.
Alereon also provides a set of Window's based tools that aid in system development.
---
Contact Alereon for the updated description of SDK and Tools
Alereon provides custom development services for modules, software, and utilities, and provides RF system engineering services to guide the inclusion of UWB into customer systems. Alereon strives to tailor solutions to individual customer needs. Contact Alereon to discuss your particular requirements.